Thermometer (free)
Access the Temperature in Your local Area Whenever You Want
It is only when you need a thermometer that you realise how important accessing one can be. There will not always be the need to know how hot or cold it is, but when you do, you don't want to guess and get it wrong. Clearly there are a lot of people who do want to know how hot or cold it is as there have been 10,000,000 downloads since the inception in 2009. Accuracy is important and fortunately this app manages to get the temperature accurate to a tenth of a degree.
Providing you give permission when you first install the temperature app, then it will be able to locate you wherever you are in the world. It will be the temperature that is actually right at the time and not a recap from earlier in the day. The Thermometer (Free) app takes a lot of information and a number of data sources from the area around you and joins them. Once this is done – via unique algorithms produced by meteorological servers – the temperature will be displayed.
Sometimes a thermometer app will give you an estimate based on details they have for a location nearby but this never happens with Thermometer. The data is new and for your location. You do need to be connected to the internet to allow the Thermometer app to work by the majority of the time that will not be a problem.
You get the choice as to whether or not you want to pay for the thermometer app. If you don't, then you will be subject to a variety of adverts. For some this is not a problem, but if you do find it problematic, then £1.99 will see them removed.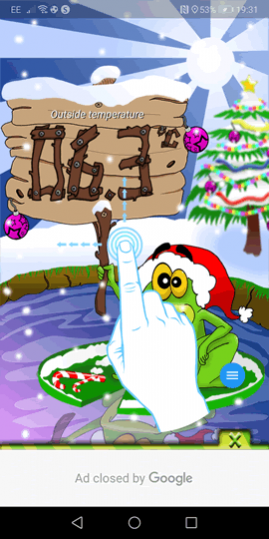 For such a valuable app, you will not have to set aside a great deal of space. It will only take up 8.18 MB when it is added to your Android phone. The app first appeared back in 2015 and the most recent update has been October 2019 where a number of glitches were corrected.
If you do decide to purchase the thermometer app rather than use it for free, you will be able to see your payment in the account settings part of the account. It is guaranteed that there will not be any adverts shown and if you use the app a lot then this will be of great benefit to you. It also means that the temperature will be shown even more quickly than it is for other users. If you do have an issue with the app then you will be classed as a priority customer and get faster access to customer services if you find there is a problem with your usage.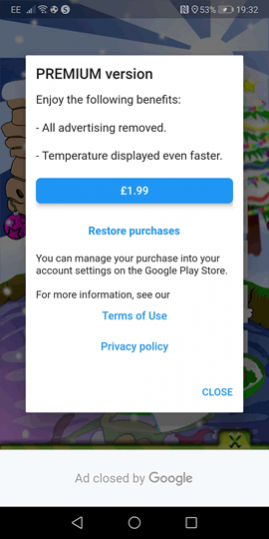 As with many online apps, there are always going to be attempts to make improvements and ensure that others are not getting better than you. Paid up members will be able to work with support when it comes to future developments.
Features
Accurate to a tenth of a degree
Fully based on where you live
Quick to produce the results
Choice of backgrounds
Can be ad free if you decide to pay
At the moment it must be used in English
View results on Fahrenheit or Celsius
Conclusion
You will get everything that you need from this app. It will let you plan the day by letting you know what the temperature is when you get up and you can check it as often as you like for updates during the day. Even if you decide that you do want to be ad free then it is only going to cost you £1.99.
---
Add a review
Tell us your experience with
Thermometer (free)
RELATED PROGRAMS
Our Recommendations
---
---
---
---